A CRITICAL LOOK AT THE ELECTORAL PROCESS AHEAD OF THE 2017 ELECTIONS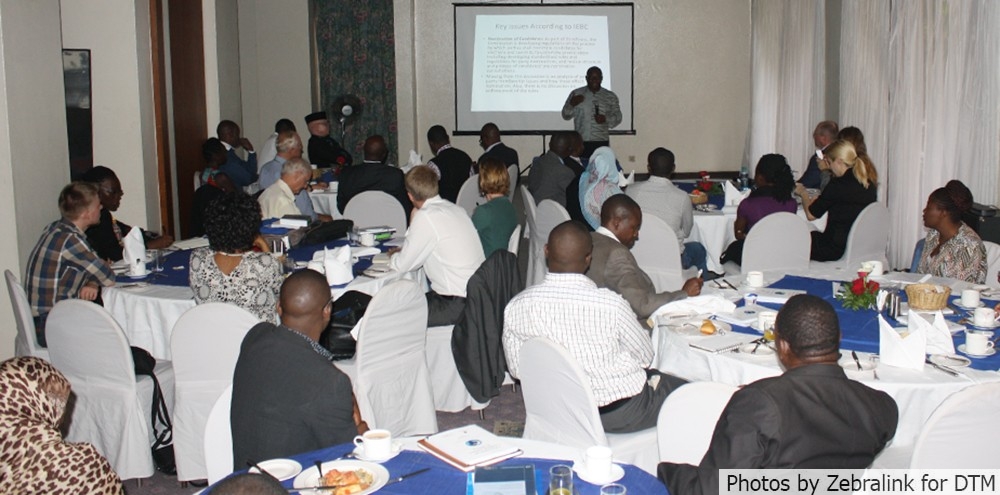 The Development Through Media (DTM) team was recently at a breakfast forum organised by the Konrad Adenauer Foundation-Rule of Law Programme for Sub-Saharan Africa under their "Haki na Sheria dialogue series". The forum was held at Laico Regency on 12th April 2016 as part of KAS's Civil Society Organisations (CSOs) capacity building, knowledge gathering, sharing and building networks.

KAS is a political foundation that aims to promote peace, liberty, and justice. It focuses on the promotion and consolidation of democracy. To achieve this, it engages in continuous consultations with various actors including citizens, CSOs, religious organizations, political parties and other stakeholders involved in the search for democratic development for all.

The aim of the breakfast forum was to highlight issues of concern regarding the electoral process ahead of Kenya's 2017 General Elections.

A key session was presided over by George Kegoro, the Executive Director of Kenya Human Rights Commission (KHRC) who presented a report highlighting some of the key issues.

One of the key issues cited was Voter registration. Mr Kegoro reminded participants that the Independent Electoral and Boundaries Commission (IEBC) aimed to register 8 million new voters through continuous registration and in two phases of mass registration. So far it has registered 1,428,056 voters representing only 34% of the National target of 4 million. This shortfall is therefore of great concern and needs to be addressed.

Nomination of candidates was another issue that was cited. It was especially noted that the manner in which political parties recruit their members should be analyzed to determine how this affects nominations. This is for improving opportunities for both female and male candidates who seek party nominations to be included in the ballot.

Participants were also informed of the existence of the Election Operation Plan, which is a framework for the conduct of the next General Elections. The framework also provides guidelines for the IEBC for administering and delivering a free, fair and credible election. Notwithstanding the existence of such guidelines, the meeting noted that the challenges experienced in 2013 were yet to be resolved despite the fact that they are likely to affect the next election, which draws close by the day.

Furthermore, the forum also discussed other pertinent issues yet to be tackled by IEBC. For example, participants were reminded that the Judiciary, a key body within the electoral process, was currently battling with credibility crisis such as the corruption cases involving some Supreme Court judges.

The IEBC itself has not been spared either, given its adverse mentioning in the chicken gate scandal in which the chairman and other IEBC officials have been implicated.

The meeting was also informed that there is need to interrogate the relationship between Safaricom and the Kenyan government as regards issues like transmission of election results and provision of security services.

As a way forward, participants were encouraged to actively engage the public in their various capacities, as a strategy for improving the public's participation in the electoral process.
DTM will continue to support the work of the sector in pursuit of the set development objectives. For more information please visit www.kas.de/rspssa